Beautiful handmade bespoke kitchens – designed and installed to fit your home and style, made with the finest materials by our skilled craftsmen in our workshop in Surrey.
Whether you are looking for luxury handcrafted oak kitchen, a bespoke contemporary kitchen with clean lines or something altogether different, our team can make your dream kitchen come true.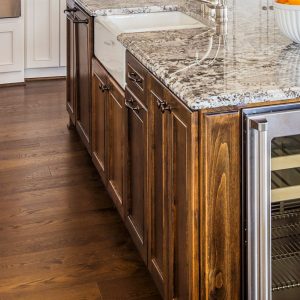 Handmade Oaks Kitchens – Wood is a natural material, with variations in colour and texture, making a handmade solid wood kitchen beautiful, unique and timeless. We offer a range of styles and finishes for your traditional oak kitchen all handcrafted and finished to your specification.
Painted Handmade Kitchen – A painted kitchen can bring vibrancy and style into a kitchen. You can choose neutral tones for a Scandi feel or mix one colour tone for a more cohesive kitchen design. We can work with real wood or engineered wood such as MDF and can paint match to your chosen colour.
How we work – We'll work on 2D and 3D designs to help you visualise your finished kitchen, using materials to meet your specific budget and work alongside you from conception to completion of your bespoke handmade kitchen project.